** note this is not our place and we are not taking commission
Booking
You can send a message to – Lakhmie at: 70854 87571 – telling her the number of persons, the makeup of your family/group – ages, married, single number of children etc. and she will get back to you. Also do specify the dates you are interested in..
It is Located about 12 Kilometres from Dawki, just off the Dawki Amlarem Road. This is a calm little village surrounded by beautiful valleys, rivers and living root bridges. Ideal for small families, individuals and groups who understand the concept of getting away from it all, revitalizing and returning to their regular life with a new outlook.
It is not a place to just stay because you have heard it is near to Dawki, this is not about Dawki – it is about its own area.
You have to contact us, discuss your plans and then take a decision on staying – please do not email or phone or message to ask for a place for 6 people tomorrow – it is not possible.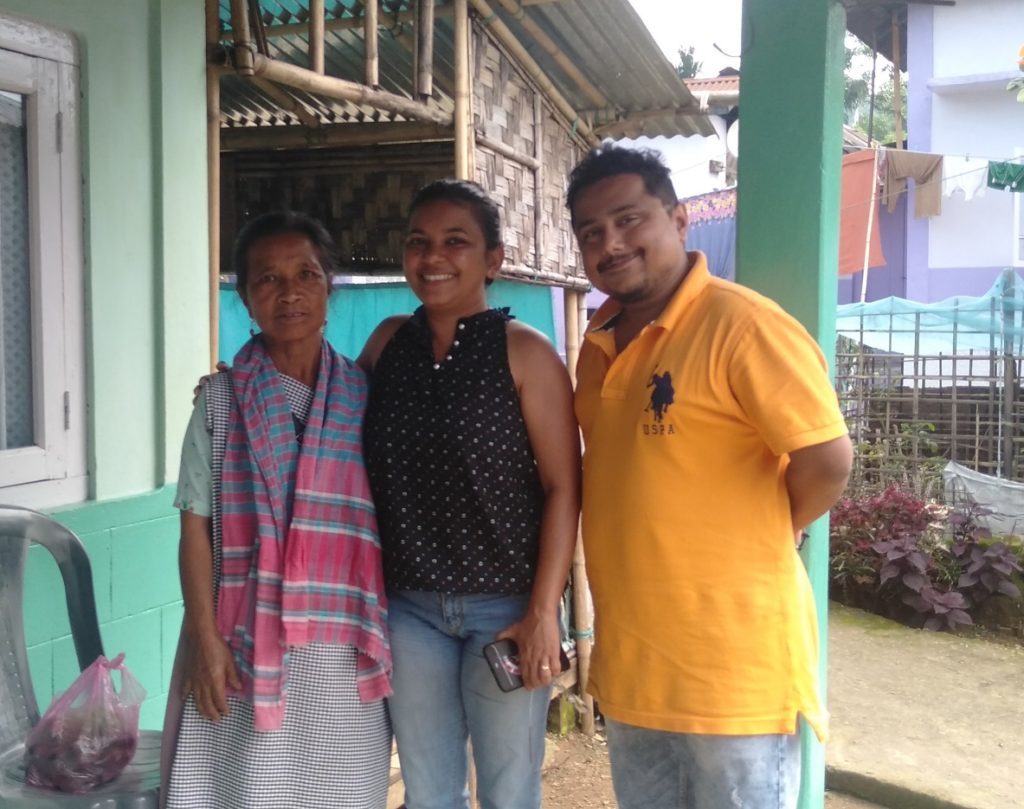 Traveling a little differently
Some Things about this Home stay:
It has 3 to 4 Beds available in a separate house from the Main House
Simple Toilet (Indian Style) and bath area
Breakfast is simple, and is served at 8 am, unless special request is made otherwise.
Meals (lunch and dinner are simple village meals) – must be told ahead of time as far as preference, non-veg or veg and preferred type of meat. Mostly your choice of meat is chicken. All meals are cooked the way we cook them, no specific Indian or western dishes.
We do not take arrivals or departures on SUNDAY: – much of the village is Christian and wish to keep Sundays as a rest day, travelers are asked not to arrive or depart on a Sunday. People staying are welcome to be around the village on a Sunday, even attend a church service if they like; or they go on a hike in the area.
Drugs and Alcohol – During your stay, please do not use recreational drugs or alcohol in public areas. You may have your own drink in your room in moderation. Please do not show alcohol or drunkenness outside in the village.
Smoking – Smoking should only be done outside, not in homes.
Pets – Please leave dogs and other pets at home.
Music – Music may be enjoyed with the use of headphones.
Dress – While we have no formal dress code, we ask that you dress modestly.
Roads – Please help keep our roads safe by observing a 20 kmph speed limit.
Hiking – While you are welcome to enjoy the beauty of our area, we ask that you request a guide if going on unmarked or unknown trails, not to pick fruit or flowers without permission, not to swim in rivers without being with a local person, or with a group that knows the area and the currents.
'Tread softly, lest you destroy that which you so desperately seek."
PRICES (Till Dec 2019)
| | | | |
| --- | --- | --- | --- |
| Per Bed – with Breakfast Payable | | Amount to Administration Fund | TOTAL PAYABLE |
| Rs. 500 | | Rs. 75. | Rs. 500. |
Amount given to the Administration Fund, is to the village to do as it feels appropriate.
Donations above and beyond are welcome.
We are here to offer you a service based on what we are capable of and within our values. We ask that you:
Respect our Schedule:
Since we are a small home business without the extra helpers we also have our other work to take care of, as well as a family. Please show respect for this: timing for meals should be within the times we specify and on time – we don't have the energy or the time to heat your food then reheat it if you decide to come late. Any request for extra's should be done prior to arriving and with an understanding of our capabilities.
Be Personable:
We in our lives are busy with things, but we will come and greet you and welcome you, even if we may not be able to sit and visit for a long time with each guest. We ask that you also be courteous and personable.
Bookings:
You can send a message to – Lakhmie at: 70854 87571 – telling her the number of persons, the makeup of your family/group – ages, married, single number of children etc. and she will get back to you. Also do specify the dates you are interested in..
Welcoming you on our terms….
The village:
Set about 2 km off the main road from Dawki (about 10 km) to Amlarem and Jowai. This is a quite village in War Jaintia considering its options to host travelers on a limited basis. Nearby are access to several Living Root Bridges, Great Waterfallsls and ideal camping sites. The village at the moment will offer limited home stay options (one home at this time), possibility for Camping by the river in season (between October and April). Guest can only come if they are staying in the village for two nights or more, and with prior booking. Day visits are not encouraged.
The village is in the very early stages of inviting guests to stay, they are not interested in large scale tourism; however they see the potential opportunities and advantages of small scale tourism. Therefore they have set up a small committee to oversee and develop these opportunities within their village as well as in partnership with other villages with similar values that are nearby.